Home > Economics > John Stuart Mill
Economists - John Stuart Mill (1806-1873)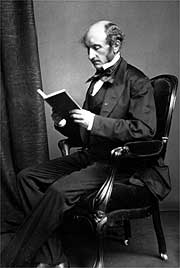 John Stuart Mill, British philosopher and economist. His "A System of Logic" (1843) was followed in 1848 by the "Principles of Political Economy with Some of Their Applications to Social Philosophy", which influenced English radical thought. In 1851, following the death of her husband, he married Harriet Taylor, whom he had loved for 20 years. She died in 1858, and Mill, profoundly affected, dedicated to her the famous On Liberty (1859), on which they had worked together.
His work on welfare lead Bill Clinton use his ideas in 1992 to end welfare as we know it.
Mill wanted to link welfare payments to education in economics.
"The only purpose for which power can be rightfully exercised over any member of a civilised community, against his will, is to prevent harm from others. His own good, either physical or moral, is not sufficient warrant. He cannot rightfully be compelled to do or forbear because it will be better for him to do so, because it will make him happier, because in the opinion of others, to do so would be wise, or even right. These are good reasons for remonstrating with him, or reasoning with him, or persuading him, or entreating him, but not for compelling him, or visiting him with any evil in case he do otherwise. Over himself, over his own body and mind, the individual is sovereign."
As this site contains some external links I don't take any responsibility for them. The names of actual companies and products mentioned herein may be the trademark of their respective owners. Please check on the respective policies. Of course you will find other links embedded in the remaining pages.